About Singapore
Singapore lies between Malaysia and Indonesia, with a total area of 693 sq km and a coastline of 193 km. It consists of one main island and several other surrounding islets. It is often described as a gently undulating central plateau that contains water catchments and natural reserves. There is a small cluster of hills at the centre, and mangrove swamps along the coast, especially in the northern and western regions. The highest point in Singapore is Bukit Timah (a hill), with a height of 166 m which is situated in the central region of the island. The mainland measures 47 km from east to west and 28 km from north to south.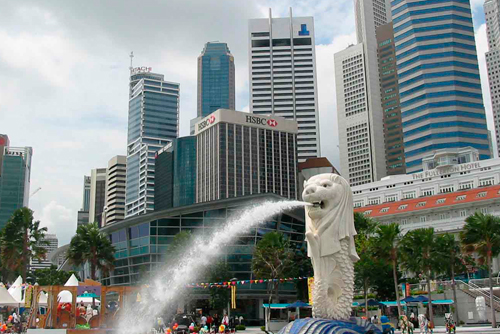 Over the years Singapore's landscape has changed due to urbanisation. The hilly central region has been levelled, mangrove swamps have been drained and filled, and the islets have been enlarged to set up industrial estates. Three main water reservoirs and their catchment area is what is left of the rain-forests and occupies the central region of the city-state.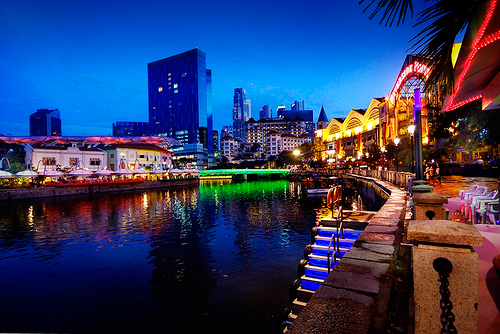 Weather & Climate
True to its Southeast Asian location, Singapore is characterised by a hot and humid climate. Located just 1 degree north of the equator, it quite naturally enjoys a tropical/equatorial climate. The island does not have clear-cut seasons like summer, spring, autumn and winter. The weather is warm and humid all year round. Rainfall is almost an everyday phenomenon, even during the non-monsoon period. These brief showers are usually quite refreshing, as they provide respite from the sun.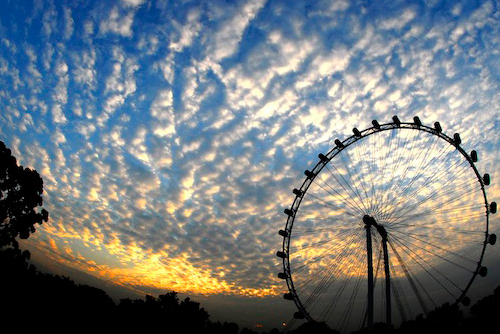 Currencies and Money Matters
The local currency is the Singapore dollar (SGD or S$) and cents. Singapore bank notes are issued in the denominations of 2, 5, 10, 25, 50, 100, 500, 1000 and 10000 Dollars. Coins are in the denominations of S$1, and 50, 20, 10, 5 and 1 cents. However, transaction is rarely done in cents of 1 and 5 denomination.

The US and Australian dollars, Yen and British pound are also acceptable, at major shopping centers and restaurants. Currency conversion facilities are available in the airport and railway stations. Exchange rates do fluctuate. Major credit cards are generally acceptable, including American Express, MasterCard, Visa, JCB and Diners Card. NETS is also widely acceptable method, for one can use ATM card for payment. Foreign currencies and travellers' cheques can be changed or encashed at most banks and licensed money changers. Passports are demanded while cashing travellers' cheques and nominal commission is also charged for the transaction. Some banks do not deal in foreign exchange on Saturdays.
Business Hours
Businesses are generally open weekdays 9 or 9:30 to 5 or 5:30; a few are also open on Saturday morning. In general, banks open weekdays 9:30-3, Saturday 9:30-noon. Branches of the Post Office Savings Bank (POSB), however, in the Orchard area open Monday through Thursday 11-7; some branches of the Development Bank of Singapore (DBS) open until 3 on Saturday.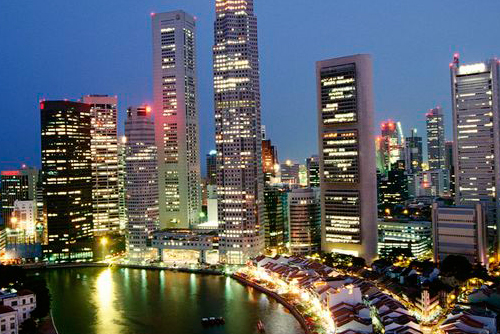 The DBS bank at Changi Airport is open whenever there are flights. Post offices are usually open weekdays 8:30-5, Saturday 8:30-1. The Killiney Road branch, just off Orchard Road, facing the Orchard Point shopping center, is open Sunday and in the evenings.
Time Zone
SGT is 8 hours ahead of Coordinated Universal Time (UTC) or Greenwich Mean Time (GMT).
Power Supply
The electricity supply in Singapore is 220 – 240 AC volts. 50 cycles per second. There are two options. If the voltage and cycles are the same as Singapore's you can purchase adapters. The plugs for the outlet are three pronged. You can buy adapters in any hardware store, and they'll cost you between $10.00 and $12.00 Singapore dollars.
Tipping
When you eat at a restaurant- check the bottom of the bill for taxes and service fees. It is standard to tip 10%. Some restaurants add a service or gratuity to the final bill and some do not , but this does not equate to a tip for the service staff. Be aware that your waitperson receives none of the service charge. It is simply additional profit for the restaurants, which keep the entire amount. Many restaurants also keep any cash tips left on the table.
Visa Information
Visitors to Singapore should have valid passports and visas to enter Singapore. Applications for such visas can be made at the respective countries' high commissions or overseas missions. However, visas are not required for Commonwealth citizens, British passport holders, and Republic of Ireland citizens for a stay of up to 14 days. All onward visitors should have passports valid for at least three months from the time of arrival. They should also have return tickets, and sufficient funds for the length of their stay in Singapore.